---
Donald
---
You will never see anyone so sincere in his belief of magic and myth. When Donald tells you "true" accounts of mermaids and magical Burmese tattoos that make people immortal, it is possible for a split second that you might consider believing in them. This Karen Divemaster from Mayabunder is one of the most hardworking people at Scubalov. Although the singing sirens in his stories might not really exist, he himself is an outstanding musician who rocks a good six string.
---
---
Winifred
---
Looks are deceptive and if there's any evidence to that it is Winifred. Petite but packed with the strength of four people twice his size, Wini is a charmer. He was Scubalov's first boat boy in 2013 and trained to complete his divemaster certification in 2016. Diving with Winifred is like diving with a good luck charm, your chances to have unusual fish sightings amplify if he is around.
---
---
Sherwin
---
There have been divers more content staring at Sherwin's waist-length golden dreadlocks, streaming around him like medusa's snake hair underwater, than at actual fish on some dives. This young divemaster's resemblance to an Atlantean being underwater is unmistakable, what with fish and crabs playing hide-and-seek in his hair. But once on land he turns into a complete feral child. A professional football career cut short by a grievous leg injury when he was 18, propelled this natural athlete into the world of diving which he believes saved his soul. When not ogling his favorite Banded sea krait, he can be found attempting backflips on the beach or wheelies on his dilapidated cycle.
---
---
Karishma
---
When Karishma was little she would dream that she woke up with gills. It was when her job as a journalist took her away from Mumbai to a landlocked city, that she fully realized her infatuation with the ocean and the agony of being away from it. Like a moth to a flame, she was lured back to the sea, but with no intention to return this time. Because of her awkward social skills and strange taste in movies, this lilliputian divemaster has always felt like an alien on land and more at home underwater. When she is not feeding her growing shark obsession, she thoroughly enjoys fooling animals by talking to them in their own tongue.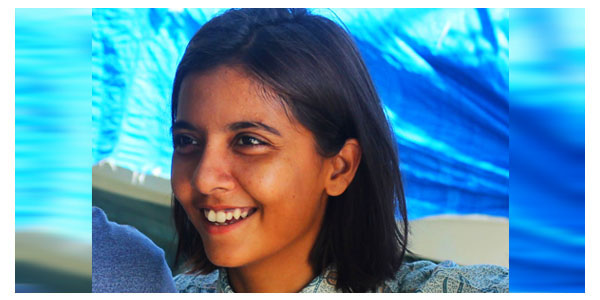 ---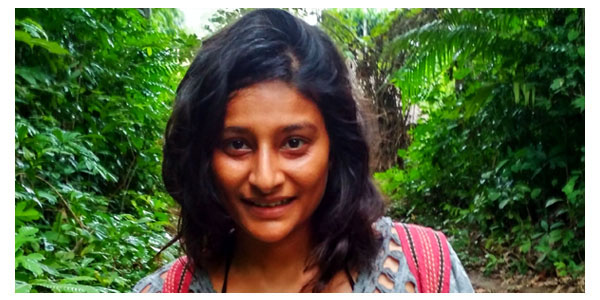 ---
Ashel
---
Ashel's half-Germanic, half- Mangalorean roots have always lent her a strong inclination towards both perfectionism and fish. A firm believer in never compromising on an occupation that makes her happy, she has explored jobs in finance, pet care and movie subtitling before finally arriving at diving. Leaving the city behind has been the first step in this divemaster's quest to rid her world of materialism and there is nothing she fears more than the feeling of regret at not having followed her heart. This trained dog behaviourist's idea of perfect bliss is being surrounded by animals.
---
---
Akshay
---
Akshay has the temperament of a Labrador. He is warm, peace-loving and has an incredibly high threshold for stress and aggravation. Almost nothing can take this divemaster out of his perpetually buoyant mood. He dabbled in professional football, movie subtitling, working in a dog boarding and in his family business of electrical transformers, before deciding to move to Havelock, stock and barrel. When not diving, this cuttlefish lover can be found doing a spasmodic dance while trying to juggle a football or watching movies.
---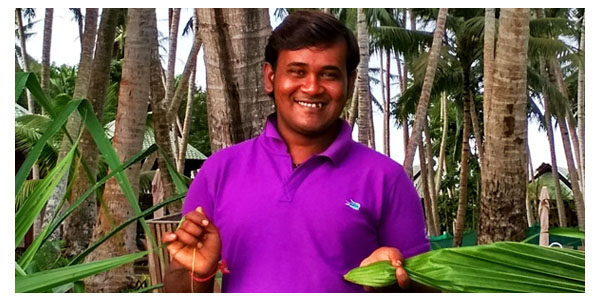 ---
Dipesh
---
Dipesh is our most gentle divemaster with a charming pot belly that has earned him the affectionate nickname 'Pet Phooli' or Puffer fish amongst all at the dive shop. Having more than a decade of experience in the diving scene as a boat boy, he finally earned his break in 2017 by completing his dive master course at Scubalov. A man of the earth, this Havelock local is very fond of food and believes in growing it himself. When not diving he chooses to spend most of his time spoiling his little daughter silly or playing the tabla.
---
---
Johnson
---
Johnson is our designated underwater photographer. His perfect buoyancy, reverse finning and steady hand deliver a performance deserving a round of applause. One of the best free divers on the team, Johnson has practically grown up fishing underwater. This eclectic rescue diver can hold his breath for three minutes and dive more than 30 meters deep without any scuba equipment. Johnson is a pretty good bathroom singer, but then again he considers the whole world his bathroom.
---
---
Lovelina
---
Lovlina is our adorable receptionist who is a stickler for perfection and integrity. Having dealt with dormitories and classrooms full of rambunctious teenagers at more than one school as a warden and teacher of moral science, she is unflinching in the face of chaos. Lovlina's only weakness is her fixation for Amrutanjan, armed with which she is set on her quest to make the world a more fair and just place.
---
---
Shernaz
---
When she was little, Shernaz explored professions like veterinary science and archaeology in her daily imaginations. She was always a free soul that is why after almost a decade of being trapped in the advertising world, she snapped out of her reverie and harnessed the beach baby inside her. Her decision to instead to be connected to the diving world that had fascinated her for so long, led her to Scubalov for which she now holds office in Mumbai. This adventurous Advanced Open Water diver spends the rest of her time rescuing strays and planning new escapades.
---